About Sylvia H. Kornherr, E.P.T., APFI 

Biography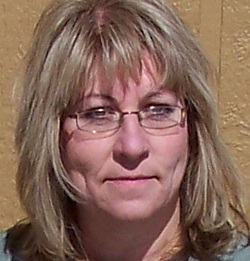 Sylvia Kornherr, owner of Equine Podiatry Creative Solutions™ [EPC Solutions] is a pioneer in the equine industry. She is trained as an equine podiatry technologist in applying software technology to analyse hoof distortions and comparative statistical data related to hoof and limb bio-mechanics in the horse.  She is a hoof care provider, IAPF accredited and credentialed farrier, nutritionist and instructor.  She is an effective communicator and equine liaison, bringing professionals of all modalities together, both locally and internationally. Her forte is working as a team liaison on difficult, mysterious lameness cases and unresolved pathological hoof cases, often complicated by metabolic disorders.
She established EQUUS - the balanced equation, in 2007, a knowledge-based info website, collaborating with like-minded, farriers, trimmers, instructors, trainers and nutritionist, partnered with M.W. Myers, D.V.M.  Together, they share current research, leading edge techniques, expand on the bio-mechanics of the equine digit and share knowledge with veterinarians and care-providers to empower the industry with improved methods to evaluate, diagnose and treat the whole horse to effectively recover soundness.
EQUUS - the balanced Equation served as an incubator to develop EPC Solutions in 2013 out of a need to offer lameness prevention and hoof-recovery consultations attainable for the average horse-owner. We work closely with your local teams of veterinarians and hoof care providers to achieve soundness in the pleasure, trail horse, gaming, racing, dressage and sport performance horse sector. We can also be commissioned to work on-site to accomplish the initial farriery and coach your local team. EPC Solutions is an equine consulting education and service provider with unique expertise in developing preventive and long-term maintenance strategies for hoof soundness. We develop effective custom made programs and solutions-oriented plans to address farriery, nutrition and training for soundness maintenance. We don't displace your current local team, we empower them to resolve issues quickly and find the root source to stop the progression.
Sylvia instructs and mentors farriers, trimmers and veterinarians internationally in farrier application and farrier-related technology. The benefits of this data analysis enhances farrier solutions useful to veterinarian practices, farriers and horseowners. She is the central point of contact and effectively communicates and coordinates all phases of the hoof plan. Follow-up and consistency is important; she compiles and reports results for accurate case history and formulates strategies to maximize successful case outcome with detailed farrier guidelines to enable owner compliance.
She is actively engaged in field research, always looking for improved techniques and understanding, with a heart for holistic healing.  She has over 35 years experience as a horse owner, competitor and nutritionist, with a medical laboratory background in microbiology and chemistry and worked for both private health industry and the Ontario Provincial Health Lab.
Sylvia was first introduced to horse podiatry work in 2000 through Dr. Myers. She later certified as an equine podiatry technologist in 2007, trained in applying Metron software technology combined with indepth understanding of hoof/limb bio-mechanics to aid in farrier solutions through a mentorship program specific to farrier application under Vet Care Etc. PC in Virginia, USA.  Her primary objective: to give back to the equine community and bring increased awareness to Canada in areas of hoof care, nutrition and equine metabolic disorders. She provides research support as adjunct staff for the Equine Redevelopment Center in North Carolina.
She continues her study of the distal limb with a holistic approach to healing; a life-long-student through continued education, mentorships and in-the-field research. Some of her mentors include M.W. "Tookie" Myers, Ric Redden, Gene Ovnicek, Dave Duckett, Frank Riley, Katy Watts, Chris Pollitt, Brian Hampson, John Riley, Mark Caldwell, David Hood, Renate Weller and always, the horse.

Contributions
Guelph University Animal Sciences Program, Annual Student Career Night Mentorship Program  from 2011- present
4-H Club education series, 2014
Hooves and Horses International Hoof and Nutrition Facebook Forum Group, resident advisor and moderator - present
Guild of Professional Farriers of North America, Body of Knowledge Committee, 2010-2012
Algonquin College Vet Tech Program, Equine Podiatry Radiology Lab, 2007
EQUUS - the balanced equation mentorship program/volunteer case work ups for farriers/horse owners, 2007 to present
Pony Club Winter Camp Program, Lecturer, Rockland, ON - 2007
Professional Services
Equine Podiatry Technologist, Hoof and Nutrition consulting services,
X-ray Metron Analysis & Farrier Solutions
Metron analysis, statistician, research reporting, The Hoof Redevelopment Center, 
Carthage, North Carolina
Epona, Metron technical support software analysis, Field Testing
R&D for Soft Rides Inc. Testing Soft Rides for therapeutic boot application
Case consults working with Almonte Veterinary Services, Almonte
Case consults working with Valley Vet Services, Carleton Place
Case consults working with Rideau - St. Lawrence Large Animal Hospital, Prescott & Kemptville
Case consults working with Moore Equine Veterinarian Center, Alberta
Case consults working with The Vet Practice, Australia
Case consults working with Pioneer Equine Hospital, California, USA
Professional Education Services
Distal Limb Bio-mechanics, theory, practical trimming, Course 101 - 50 hours instruction
Distal Limb Bio-mechanics, theory, practical trimming & shoeing -  Farrier School Apprenticeship Program-200 hours instruction
Decoding the hoof capsule, podiatry radiographs for farrier solutions  -  60 hours instruction for veterinarians, vet technicians.
Accomplishments, Publications and Lectures
Equine Articles
Educational commentary , Facebook Farrier to Farrier QA forum, EPC Solutions private hoof forum, current
The Skinny on Probiotics, Eastern Ontario Fjord Association, May 2013
 Parts of the Hoof, Eastern Ontario Fjord Association, Jan 2013
 No hoof No horse, Cinchup Magazine, June 2012
 Barefoot versus Shod, Cinchup Magazine, May 2011 Issue
 Hoof Balance and the Distal Limb, Polo Post 2010
 No Hoof No Horse - the distal limb, OADG 2007
Published Work
Myers  M, Kornherr S, Recognizing Subclinical and Chronic Laminitis, Presented at Ohio International Hoof Care Summit, Feb.2013
Myers  M, Kornherr S, Nutrition and Hoof Health Webinar, Food for Thought,  American Farriers Journal, Intl. Webcast,  May 2013
Myers  M, Kramedjian R, Kornherr S, Trimming and the Hoof Pastern Axis, American Farrier's Journal, July-August 2011: pp 58-65
Myers  M, Kornherr S, Veterinarian/Farrier/Horse Owner Handbook, Best Foot Forward, Holistic Hoof Care,  in progress
Lecture Presentations
The Importance of Phalangeal Alignment & Hoof Pastern Axis - The Equine Documentalist Webcast 2020
EOHC Club Dinner & Education Night- EPC Solutions Center, Almonte, ON- 2019

FOOD FOR THOUGHT: Equine Nutrition and Metabolic Syndrome- Burke's Falls, ON-2018

CLINICIAN, Landsdowne Festival of the Horse- Landsdowne, ON- 2017
WHAT ABOUT EQUINE GUT FLORA? -Grand Erie Opening, Niagara, ON- 2017
HOOF SUPPORT- Equine Limb Biomechanics and Nutrition-SLOV Pony Club, Kinburn, ON- 2017
HOOF DISSECTION CLINIC- Venogram & Podiatry Radiograph markers with comparative dissection- EPC Solutions Center, Almonte, ON- 2016
Hoof Biomechanics and Physics 101- Pony Club, Athens, ON- 2016
Horse hooves from the INSIDE OUT; new research in gut health link- Ritchie Feed, Richmond, ON- 2016
Hidden links to Hoof Health: Gut, IR, PPID dysfunction- Ritchie Feed Customer Education Series- Brockville, ON- 2016
OPEN FORUM Q&A Equine Podiatry and Nutrition- Horse Country Campground, Forrester Falls, ON- 2016
4-Day INTERNATIONAL WORKSHOP- Advanced Concepts Equine Podiatry & Therapeutic Farriery for the veterinarian and farrier- Deepwood Veterinarian Centre, Virginia, USA- 2015
Equine Podiatry and Nutrition Info Night-Rooney Feeds, Equistation, Kemptville, ON- 2015
Unravelling the facts: Advanced Nutrition & Podiatry today- Tofeild, Alberta-2015
Holistic Hoof and Nutrition Care-Next generation Protocols- Wilson Equestrian Center, ON- 2014
2-Day Advanced Concepts Equine Nutrition for Professionals- EPC Solutions Centre, Almonte, ON- 2014
Refeeding Sydrome - the rescue horse - Wilson Equestrian Center, ON - 2014
Holistic Hoof and Nutrition Care- next generation concepts -Greenhawk, ON - 2014
Hidden truths unravelled- are we tied to tradition?- Ottawa Valley Hunt Club, ON - 2014
The Why Behind Probiotics - Madawaska Pleasure Riders Association - 2013

Hoof Balance Series: Shoeing for Performance - Royal Equestrian Center, Barrhaven, ON - 2013
Hoof Balance Series: Feeding for Performance - Royal Equestrian Center, Barrhaven, ON - 2013
Holistic Hoof Care and the Metabolic Horse - Lone Wolfe Stables, North Gower, ON - 2013
Holistic Hoof and Nutrition Care - Cavalan Equestrian Stables, St. Lazare, Quebec, 2012 
Feeding The Insulin Resistant Horse - Josh Lyons Clinic, Clarence Creek, ON - 2011 
Muscle or Foot Sore? - Josh Lyons Clinic, Clarence Creek, ON - 2011
Nolan Hoof Plate Demonstration with commentary- Everything Equine Event, 
Guelph Kemptville College Campus, ON - 2010
Ask the Farrier Booth- Everything Equine Event, Guelph Kemptville College Campus, ON - 2010 
Hoof Biomechanics and Body Soundness - Everything Equine Event, Kemptville College Campus, ON - 2010
Balanced Hoof, Balanced Nutrition - Ecurie La Bella Vita Equestrian Center, St. Lazare, Quebec - 2009
Feeding for Health - Rigaud, Quebec, 2009 
The Balanced Hoof - Luskville, Quebec 2009
MPR Clinic-Hoof Balance & Biomechanics - Beckwith, ON - 2008
No Hoof No Horse Hoof Health Series - Virginia, USA -  2008 
Hoof Balance 101 - OADG - National Capital Equestrian Center  -
Ottawa, ON - 2007
Innovative Developments by EPC Solutions
Developed 8 Hoof Type Classifications, distal limb distortions defined for Equine Hoof Practitioners, Veterinarians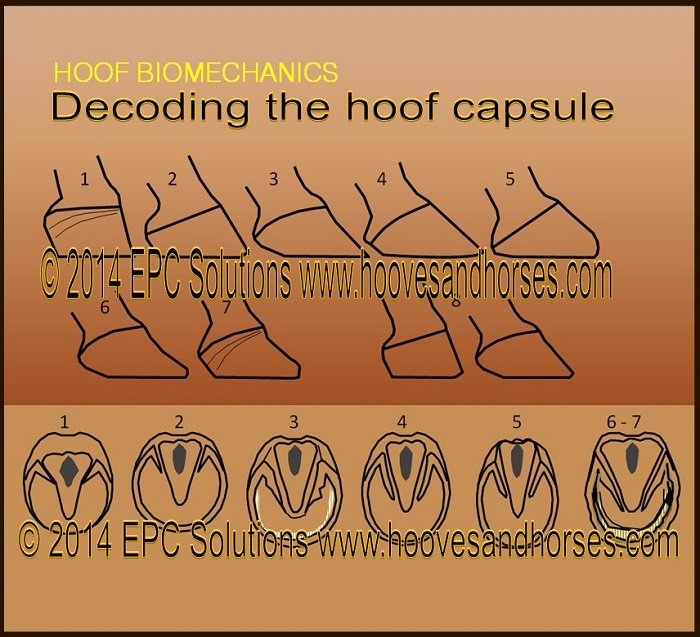 Developed the "Bollershoe" for therapeutic application,  (Hoof boots with roller shoe application) barefoot alternative therapeutic package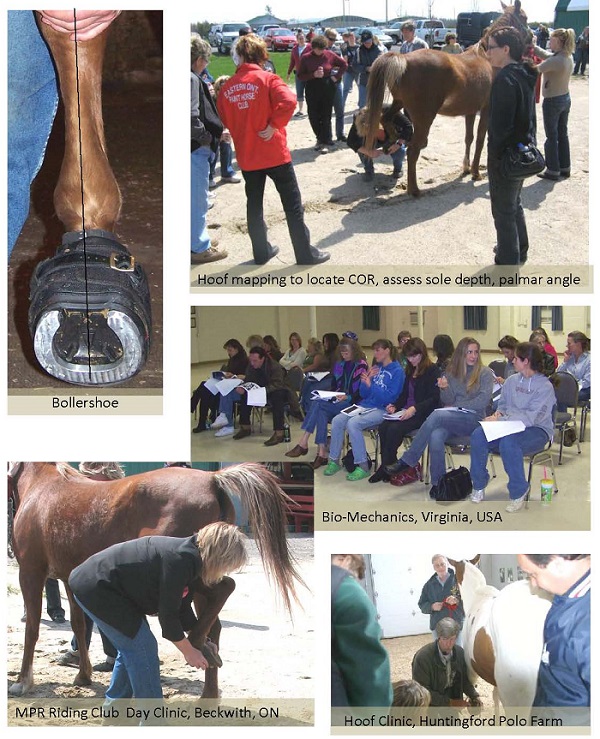 Return from About Sylvia Kornherr to the Home Page